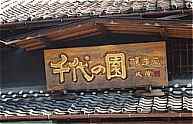 Kura History
The brewery that makes Chiyonosono was founded in 1896, but the name Chiyonosono was first adopted in 1920. Before that, we were a rice wholesaler, and at that time even handled an old sake rice called Kyushu Shinriki (which we have recently revived). We are located in Yamaga City in Kumamoto Prefecture, which is well known throughout the country for many ancient burial sites, especially the well-decorated sites known as Chibusankofun. It is also a well known hot spring resort location. We are comfortable and thriving in this perfect place for sake-brewing, with its wonderful water, protected by the magnificent natural environs near Mt. Aso.

The Sake
Overall, our sake has a fairly unique and full flavor to it. The late Dr. Kinichirou Sakaguchi, an authority on fermentation known as "the sake professor," described our sake by saying "Usually sake can be classified as either heavy or light, but this sake conveys a subtle quality in which lightness comes out of heaviness." We have won many awards, both before and after the war, in various government sponsored contests. More recently, we have won gold awards in 1989, 1990, 1993, and 2004.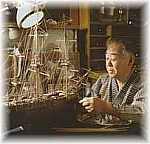 The People
The family is very much involved in our business, and in fact, so are the kurabito (assistant brewers) and toji (head brewer). We are fortunate in that they are also from our area, and do not need to travel great distances to get here. As a group, we always try to improve on the quality - and the uniqueness - of our sake. Says our chairman, Katsutaro Honda (see photo), "Sake is an expression of the land, the rice, the water, and our toji's skill. Taste a bit of the Yamaga region of Kumamoto."

Size and Special Characteristics
We produce about 3,500 koku a year. That is the equivalent of about 630 kiloliters, or 350,000 1.8 liter bottles. We are small by most standards, and this allows us to brew precisely the sake we choose to brew.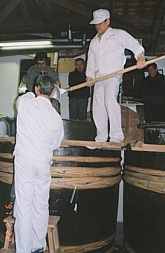 Notable Quotes
Based on the belief that real sake is junmai-shu brewed from highly polished rice, in 1968 we became the first brewery to produce a junmai-shu after the war. At the party celebrating this, the kurabito vowed to continue their study, as they passed around a large, red-laquered cup and drank communally. Our "Shuhai" sake took its name from that cup. We are one of the founding members of the Junsui Nihonshu Kyokai, or "pure sake association," founded in 1973, and today continue to do our best to promote the popularity of Junmai-shu.






Toji (Master Brewer) and Kurabito
(Photo of Toji Yoshihiro Inaba)
Our toji is Mr. Yoshihiro Inaba, and he hails from Kumamoto Prefecture. He is assisted by about eight other people in brewing. Each has his or her own responsibilities, and they strive daily to coordinate all their efforts. Sake brewing is excruciatingly hard work, and they must all work together as a team to create the living thing called nihonshu (sake).

Contact Info
1782 Yamaga,Yamaga-shi, Kumamoto,

861-0501
Tel 81-968-43-2161 Fax 81-968-44-7300
-- 81 is Japan country code; within Japan, dial 0968-43-2161 --
Email: info@chiyonosono.co.jp
Web: www.chiyonosono.co.jp