ABOUT ESAKE
eSake Team
About John


Our Mission
Contact Info



PROFESSIONAL
SAKE COURSE
John offers a
special course on
sake. For more info,
including a detailed
schedule, syllabus,
& pricing, click here.
(opens new window)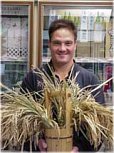 John Gauntner is the top English-speaking expert now writing on Japanese sake, and eSake's director of content.

In Dec. 2007, John launched his Sake Educational Products eStore. Buy digital content on all things sake direct from John, the Sake Guy !

Books on Sake by John Gauntner
Click book image to learn more or to purchase from Amazon.




Gauntner is a longtime Japan resident and an acknowledged sake expert. He both speaks and reads Japanese. He hails from Ohio, where he received a B.S. in Electrical Engineering from the University of Cincinnati. Before starting up his sake web site, Sake World, John worked as an engineer, as a writer and translator for corporate and government clients, and as a marketing consultant for a U.S. semiconductor firm with operations in Japan. He covers the world of Japanese sake in a number of forums.